In a notable achievement for the Nigerian music scene, Street-hop artist Portable clinched the esteemed title of "Best New Artist" at the African Entertainment Awards (USA).
His triumph in this category involved surpassing stiff competition from renowned artists such as Seyi Vibez, Odumodublvk, Blaq Bones, among others.
This win marks a significant milestone for Portable, representing his inaugural international accolade. The recognition comes as a testament to the artist's rising prominence and the global appeal of his unique street-hop style.
The announcement of Portable's victory reverberated through social media platforms, with ChartsAfrica taking to Twitter to share the news.
Their tweet conveyed hearty congratulations to the artist, stating, "Congratulations #Portable on winning the Best New Artist Award at the 2023 African Entertainment Awards, USA (AEUSA)."
Acknowledging the honor, Portable himself shared the announcement on his Instagram page, expressing gratitude for the achievement. Known for his distinctive street-hop flair, Portable has consistently captivated a diverse audience, turning heads in the music industry.
This win not only reflects Portable's individual success but also underscores the thriving and dynamic landscape of Nigerian street-hop music on the global stage.
As he continues to make waves, Portable's recognition at the African Entertainment Awards serves as a testament to the growing influence of Nigerian artists on the international music scene.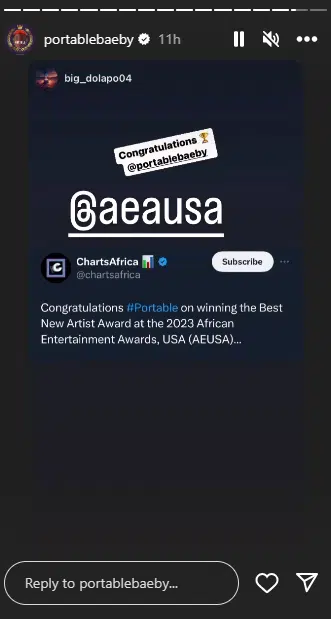 Read More On The Topic On TDPel Media
Related posts:
West Midlands Tech Firm Secures UK's First General Export Facility With HSBC UK Backing West Midlands Tech Firm Secures UK's First General Export Facility With HSBC UK Backing United Kingdom – A West Midlands-based exporter has become the first UK business to take advantage of a new offer from the Government's credit agency,...
African Development Bank's African Leaders for Nutrition lauded by African Union during Assembly declaration of 2022 as "African Union Year of Nutrition" The African Union has recognized the African Leaders for Nutrition program, which is based at the African Development Bank (www.AfDB.org), for its progress in increasing...
Celebrating Creativity: Artist with Nine-Year Daily Art Practice Secures Turner Contemporary Exhibition …By Gift BADEWO for TDPel Media. A Remarkable Artistic Journey Artist Margo McDaid has elevated productivity to extraordinary heights, creating a new artwork every day...
African amusement industry operators must visit DEAL 2022 for latest concepts in entertainment African family entertainment centers, theme parks, and waterparks operators will stand to gain from the upcoming DEAL 2022 as it will showcase some of the most...
WILL PORTABLE BE SUED TO COURT? See How Portable Has Gotten Himself Into Serious Trouble Portable, a controversial and rapidly emerging artist, is still wallowing in the glory of his recent triumph, venting his rage on social media. He is...
Nigeria Under-20 Women B Team Secures Final Spot with a Convincing 3-0 Victory over Benin Republic in WAFU B Under-20 Women Championship …By Dorcas Funmi for TDPel Media. The Nigeria Under-20 Women B Team emerged victorious in a thrilling match against Benin Republic, securing a 3-0 win...
England Secures Quarter-Final Victory Against Fiji in Rugby World Cup England's Bench Proves Crucial In a highly anticipated quarter-final match in the Rugby World Cup, England emerged victorious against Fiji. The England team strategically used...
Handre Pollard's Decisive Penalty Kick Secures Victory for the Springboks Capturing the Moment: Handre Pollard's Match-Deciding Penalty In a thrilling and closely contested rugby match, Handre Pollard, the South African rugby sensation, stepped into the...
African Star Wizkid Becomes First Artist to Achieve 6 Billion Spotify Streams Advertisements Wizkid, the Nigerian musical sensation, has once again demonstrated his unparalleled talent on the global stage. With a mesmerizing gift for creating captivating melodies...
Fireboy DML: Beyond Afrobeats – Embracing the Label of an African Artist Popular Nigerian musician Fireboy DML has recently garnered attention following his appearance on CNN's African Voices segment on Sunday, August 27th. In this interview, he...