Pete Carril, the rumpled, cigar-smoking basketball coach who led Princeton to 11 NCAA Tournament berths and whose teams rocked March Madness with old-fashioned principles, passed away on Monday. He was 92.
According to a statement provided by Princeton on behalf of Carril's family, he died "peacefully this morning." There was no mention of a cause of death.
"We kindly ask that you please respect our privacy at this time as we process our loss and handle necessary arrangements. More information will be forthcoming in the following days," the statement said.
Carril, a Hall of Famer, instructed his teams in a distinctive and archaic style of basketball — the Princeton offence, which was characterised by patience, intelligence, continuous motion, rapid passing, and backdoor cuts that often resulted in layups.
It was a basketball offensive that could be used at any level. At Princeton, it was often executed by players who were frequently neglected or disregarded by some of the nation's basketball giants. In the NCAA Tournament, Princeton's unyielding discipline might compensate for the discrepancy in skill.
During Carril's 29 seasons as coach of the Tigers, the system performed well. His teams won thirteen Ivy League championships and amassed a 514-261 record without scholarship players. Princeton topped the country in scoring defence in 14 of the past 21 seasons, including the last eight in a row that concluded in 1996. The Tigers' patient strategy drained the high octane from many opponents.
He led Princeton to victory in the 1975 National Invitation Tournament and was inducted into the Naismith Basketball Hall of Fame in 1997.
March was a favourite month for basketball enthusiasts to see Carril's squad inflict havoc. This was the situation in 1989 for Georgetown's John Thompson, the future Hall of Fame coach who was sweating profusely with his signature towel slung over his shoulder.
As a No. 16 seed, Princeton gave a No. 1 Georgetown team including Alonzo Mourning and Charles Smith everything they could handle and was on the approach of pulling off a historic upset. The Tigers had two opportunities in the final seconds to send Thompson and his squad home, but both attempts were rejected as they lost 50-49.
Carril's last season in 1996 was marked by an NCAA first-round win against reigning champion UCLA, which is regarded by many as one of the most shocking results in tournament history.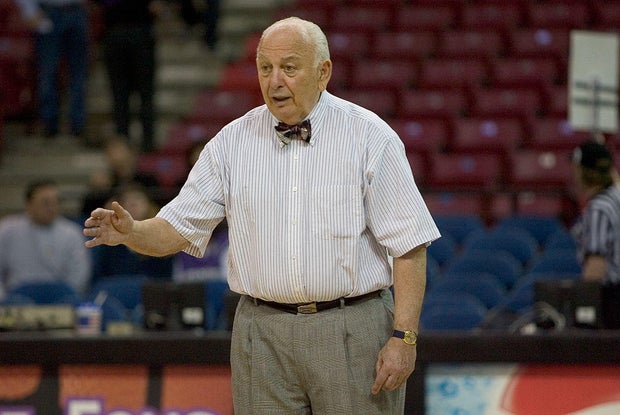 Sacramento Kings assistant coach and former longtime Princeton head coach Pete Carril gives instructions to a player during warm-ups before the Kings' 99-95 victory over the Los Angeles Clippers at Arco Arena in Sacramento, Ca.TODD SHURTLEFF/ICON SMI/ICON SPORT MEDIA VIA GETTY IMAGES
Peter Joseph Carril was born in Bethlehem, Pennsylvania, to Spanish immigrant parents on July 10, 1930. He played under the renowned coach at Lafayette College, Butch Van Breda Kolff. Carril coached high school football in Pennsylvania throughout the 1950s and 1960s before becoming the head coach at Lehigh College. He went 11-12 throughout the 1966-67 season before transferring to Princeton.
Carril was much more than a basketball coach. According to his friends and former teammates, he was brilliant, philosophical, a superb judge of character, trustworthy, and kind. He was not country club material. His outfit was simple: open-collared shirts, sweaters with wrinkles, and his thinning hair was never completely combed. On occasion, a sport jacket would be present.
Carril was persistent on the court. He pushed his players to their limits and pursued excellence. It would not be out of the ordinary for him to sit on the sideline with a 20-point advantage and a distressed expression after a terrible pass, a mistake, or a missed layup. It was the craft and method that counted, not the score.
If questioned, he would recollect what his father told him when he was growing up in Bethlehem, one of the nation's steel centres.
Carril often said, "When you lower your standards, they can turn around and attack you."
Carril's success on the court never changed him. He enjoyed cigars. Until the 1990s, he loved having a drink, a cup of coffee, or simply conversing with folks at Andy's Tavern in Princeton. Conte's Pizza remains a frequent hangout for him. Occasionally, he would visit the Princeton basketball office to speak with Mitch Henderson, the team's coach since 2011.
After leaving Princeton, Carril entered uncharted territory: the NBA. He served as an assistant coach with the Sacramento Kings for a decade. He assisted Rick Adelman's Kings in winning two Pacific Division championships and reaching the 2002 Western Conference finals.
In 2007, he joined the coaching staff of the Washington Wizards. In 2009, he returned to the Sacramento Kings, where in his first stay the Princeton offence gained fresh life at the highest level of basketball.