The Umuada Abagana National Association, South East Chapter has been inaugurated.
The ceremony took
place
at Njikoka Local Government Headquarters, Abagana. Paul Ezeoke  reports that
the Association has primary objectives of mobilizing, galvanizing and harnessing the energy, talents, goodwill and cooperation of Abagana daughters towards championing the collective cause and promoting the overall interest of Abagana and her
people
.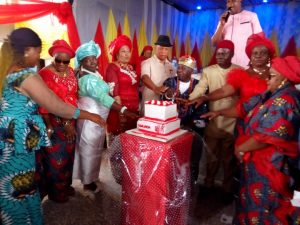 In her speech, the National President of the Association, Mrs Chinyere Ogugua said daughters of the community decided to come together and forge a common front to protect and promote the collective interest of their people and disclosed that they have chapters in other parts of the country.
In  her address, the Zonal Leader of the Association, Mrs Elizabeth Anyaonu, a lawyer, noted that Umuada group is a strong institution in Igboland that protects women's dignity , sanctity of marriage and family as well as enforces cultural values that have sustained  Ndigbo for ages.
Mrs Anyaonu explained that the Association will help to properly rediscover the Umuada system in Abagana with a view to reposition it for greater roles as well as reinvent   themselves to fit well as agents of development in Abagana and role models to younger women.
Contributing, a member of the Association, Mrs Amaka Josiah Okoli   said women are personality builders who build husbands, families and society.
Earlier in a lecture, Professor Caro -Arinze Umeobi of Nnamdi Azikiwe University Awka, averred that women play important roles in propagating families and designing societal growth from one generation to another, noting that Igbo women in particular are assets to families, communities and entire society.
In their separate remarks, the Transition Committee Chairman for Njikoka Council Area Mr George Ozor and the President General of Abagana Communication Chief Linus Okafor – Okunwa while commending the women for the initiative urged them to uphold unity, understanding and respect for one another.
The ceremony attracted many dignitaries including the traditional ruler of Abagana Igwe Mbamalu Okeke among others and featured cutting of cake.