Ticketmaster has encountered an outage within minutes before the eagerly awaited ticket sale for Taylor Swift's Eras tour, which runs from March to July.
Infuriated supporters tweeted that they were unable to access the website 30 minutes before the tickets were scheduled to go on sale.
It is unknown whether Ticketmaster will suspend ticket sales until the website is back online.
Some fans stated that they were unable to access the website at all, while others encountered a plethora of problems, such as the website claiming that accounts are not confirmed while they are.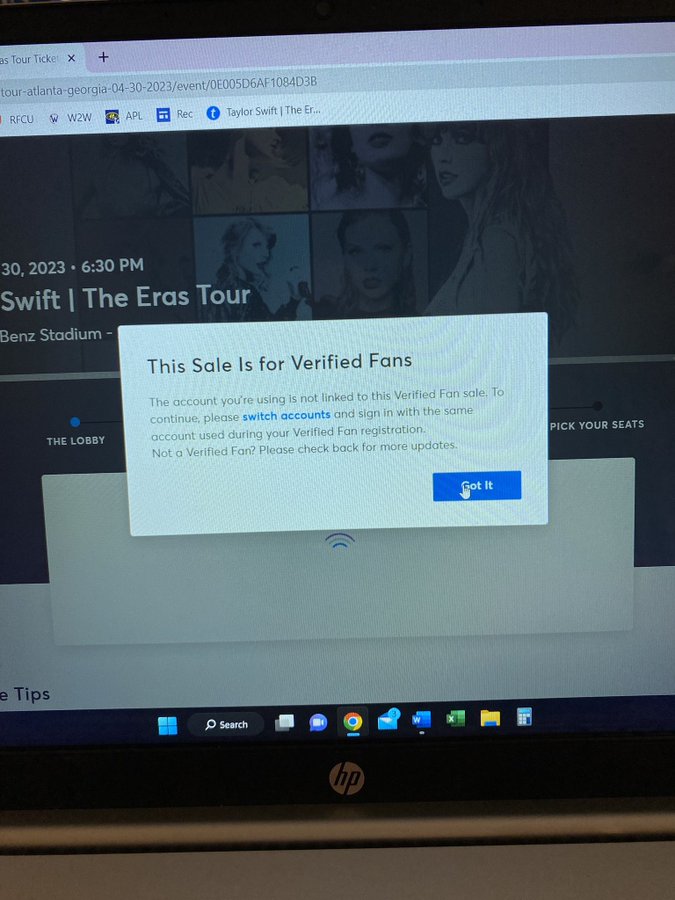 No justification for Ticketmaster. One social media user stated, "They chose to create this ludicrous monopoly and had months to prepare."
Taylor Swift is giving her fans extra opportunities to see her live on her forthcoming Eras tour by adding additional dates.
The 32-year-old singer-songwriter just added 17 performances to her already busy spring and summer schedule for next year.
Swift will begin the tour a day earlier than initially scheduled on March 16 in Arizona, and will conclude it four days later than originally scheduled on August 9 in Los Angeles.
Ticketmaster has recently been criticized for their 'dynamic pricing' mechanism, which has resulted in concert ticket prices soaring.
Since 2011, the much criticized program has allowed the prices of "platinum tickets" to change according on demand.
Platinum tickets can be positioned anywhere in the arena, which means that even the least desired seats could result in a hefty bill for the purchaser.
Ticketmaster claims the system provides customers with 'fair and secure access' to in-demand tickets, as explained on their FAQ page: 'Prices are modified based on supply and demand, similar to how airline tickets and hotel rooms are sold.
The objective is to provide fair and secure access to the most in-demand tickets for the most ardent fans, while allowing artists and those engaged in staging live events to price tickets closer to their fair worth.
In recent years, however, 'dynamic pricing' appears to have caused nothing but headaches for fans of Taylor Swift, My Chemical Romance, and Drake, whose tour prices have increased by hundreds, if not thousands of dollars.
»Taylor Swift tour tickets go on sale 30 minutes after Ticketmaster outage«
↯↯↯Read More On The Topic On TDPel Media ↯↯↯
Also On TDPel Media