Saint Michael and All Angels Anglican Church, Nibo in Awka South Local Government Area, has honoured Mrs Ifeoma Okonkwo, for her exemplary role in the development of the church and commitment to divine service.
Mrs Okonkwo, a veteran educationist, was conferred with the title of Ada Saint Michael and All Angels, for her sterling dedication, uncommon generosity and zero tolerance to injustice and hate.
Correspondent Blessing Uchendu  reports that in a sermon to mark the special service, the vicar of the church, Reverend Patrick Odinanwa, said those conferred with titles in the church are known to have laid quality lifestyle and emphasized that the investiture is a call to duty.
Speaking to newsmen, the husband of the celebrant, Chief Osita Okonkwo, described his wife as passionate and hardworking, noting that the honour was deserved.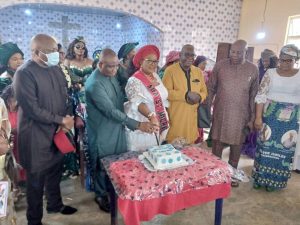 On their parts, the celebrant's children, Osita and Oge Okonkwo, congratulated their mother, whom they said has lived a fair share of her life in service to God and prayed God to continue to uphold her.
Some of the siblings of the celebrant, Chief Chigbo Obialor, Mrs Ngozika Nwankwo and a family friend, Chief Emma Anizoba, said Mrs Okonkwo has demonstrated exceptional character in God's service, noting that commitment, humility and kindness stand her out and advised the children to emulate her good character.
The celebrant, Mrs Okonkwo who expressed  happiness for the honour, thanked the church, her family, siblings, friends and well-wishers who came to rejoice with her and thanked God for finding her worthy of such great honor.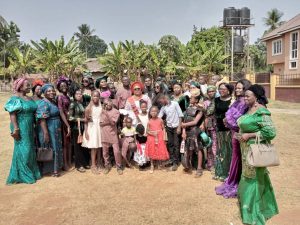 She prayed for God's grace upon her life, to enable her to continue with her service to God and mankind.
The event also featured presentation of certificate, cutting of the cake and special thanksgiving by the family of the celebrant.