ar Power Station He said on Telegram on Saturday that there were no injuries, but that residential structures, a power line, and a gas pipeline had been destroyed.
For the majority of the last week, Nikopol has been bombarded on a daily basis, and a salvo of shells killed three people and destroyed 40 residential complexes on Thursday, he claimed.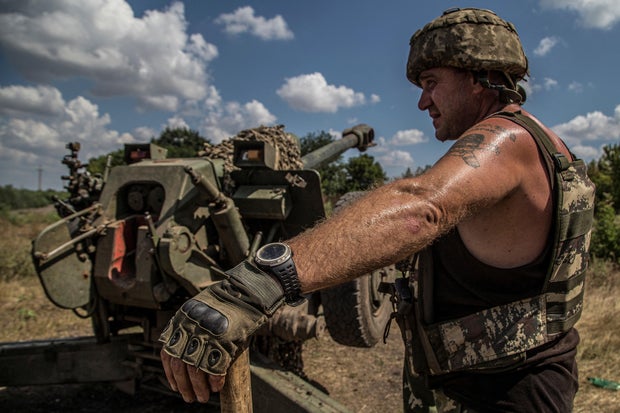 For days, Russian and Ukrainian authorities have accused one other of bombarding the Zaporizhzhia nuclear power station in violation of nuclear safety regulations. Russian military have captured the plant since the beginning of Moscow's invasion, yet pre-war Ukrainian nuclear employees continue to operate it.
Ukrainian military intelligence said Saturday that Russian forces were firing the facility from a nearby hamlet, causing damage to a pumping station and a fire station. According to the intelligence directorate, the Russians bused people into the power plant and hoisted a Ukrainian flag on a self-propelled cannon on the outskirts of Enerhodar, the facility's location.
"Obviously, it will be exploited for yet another provocation to implicate Ukraine's military forces," the directorate warned, without going into more detail.
Ukrainian authorities have often claimed that Russian soldiers were cynically exploiting the facility as a cover while shooting across the river, knowing that Ukrainian forces would be hesitant to fire back for fear of causing a nuclear disaster.
According to them, Russian bombardment on Friday night killed one lady and wounded two other people in the city of Zaporizhzhia, which is roughly 53 kilometers (33 miles) from the plant. A lady was also killed in shelling in Ukraine's southern Mykolayiv area.
For many weeks, Ukraine's military has attempted to build the framework for a counter-offensive to retake the Russian-occupied Kherson area in southern Ukraine. A local Ukrainian official stated Saturday that a Ukrainian attack had destroyed the region's final operational bridge over the Dnieper River, significantly crippling Russian supply routes.
"The Russians no longer have the capacity of completely turning over their equipment," Serhii Khlan, a Kherson Regional Council deputy, posted on Facebook. His assertions could not be confirmed right away.
Ukrainian authorities have often said that a counter-offensive to recover Russian-occupied portions of the country's south is in the works. They asked locals not to share information regarding military activities on social media and warned that any associated statements might be delayed.
A Ukrainian presidential advisor said Kyiv should make retaking the Black Sea peninsula that Moscow seized more than eight years ago one of its military goals, days after explosions at a Russian air base in Crimea damaged up to a dozen planes.
"With its blatant takeover of Crimea in 2014, Russia declared war on Ukraine and the rest of the world. It is self-evident that this conflict must finish with the liberation of Crimea "Ukrainian President Volodymyr Zelenskyy's office chief, Mykhailo Podoylak, tweeted on Saturday. "As well as the legal penalty of those who initiated the'special military operation,'" as the Kremlin refers to its conflict in Ukraine.
Ukraine has not claimed responsibility for the Tuesday blasts at the Saki air facility. Russian military authorities denied any planes were damaged — or that an assault occurred — and blamed the explosions on the igniting of on-site ordnance.