More than five months after public outcry over cases of road crashes caused by Y-shaped entry designs known as "Access Road Islands" at Enugwu-Ukwu, Enugwu-Agidi, Abba and other junctions along Enugu-Onitsha Expressway, RCC Construction company handling the road project has started reducing the size of the structure, which many said projected into the road.
Recall that ABS had on twenty-third March 2021 reported that ten persons comprising male and female escaped death as a Toyota Corolla vehicle in which they were travelling with hit the structure at Enugwu-Agidi junction.
The Corolla vehicle consequently hit a black Toyota Highlander which it was trying to overtake, with serious damage on both vehicles.
Eyewitnesses at the scene, passersby and commuters called for urgent attention to the structure, since according to them, road accidents had been happening at the spot and other junctions along the Expressway due to the "Access Road Islands".
Though efforts to speak with the Public Relations Officer of the RCC Construction Company was not successful then, a Staff at Nawfia base of the company had attributed the accidents on the smooth lane of the dual carriage road to lack of markings, adding that it was pressure from commuters and motorists that led to the quick opening of the road.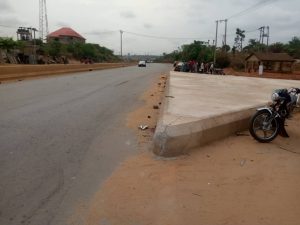 Correspondent Joseph Egbeocha reports that commuters who spoke to the ABS on the ongoing reduction of the size of the "Access Road Island", Messes Nkemjika Oforah, Olisa Igweze, Patrick Nwokedi and Miss Patricia Odili expressed hope that it will be done across board, urging people to continue to speak on issues affecting them, regardless of delay in getting responses.