A revered Chief in Obosi, Idemili North Local Government Area, Ogbueshi Obiekwe Nwashili, has been laid to rest in his country home, at the age of ninety-two.
The funeral rites, attended by respected Chiefs in the community and beyond laid credence to Ogbueshi Nwashili's towering stature in his belief in Igbo tradition where he was given the title of "Ogbueshi".
He was also reputed for his devotion and contributions to the growth of the Roman Catholic Church in his home town.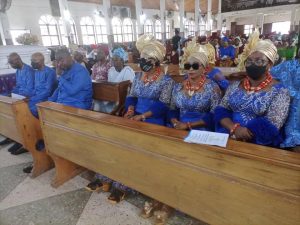 The deceased who worshiped at St. Theresa Catholic church Obosi, was until his death a strong member of Saint Anthony of Padua.
The event was more like an investiture on a social crusader and a man celebrated for his hard work who, irrespective of his modest educational background, ensure that all his children and relatives succeeded through legitimate source of livelihood.
In a homily during the mass to herald his journey to eternity, a visiting priest, Reverend Father Stanley Anyaoku said irrespective of the fact that death is painful, Christians are expected to live a godly life that prepare them for life eternity.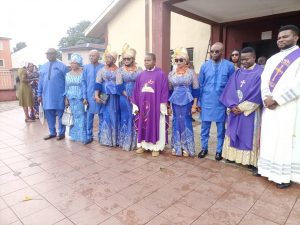 The Catholic priest thanked the deceased family for the celebration of their father while alive, which will never be forgotten in the town and in the memory of their late father and asked others to emulate such gesture in appreciating their fathers while alive.
The deceased children, Messrs Charles, Francis, Nonye, Obiekwe as well as Mrs. Stella Okoye of the ABS, said their major desire were to give their beloved father and mentor a quiet but memorable farewell, but were overwhelmed by friends and well wishers who turned the funeral into an appreciation ceremony and promised to sustain the legacy of their late father.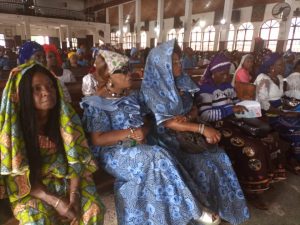 In their various speeches, Mr. Onyebuchi Obiajulu, Chief Ifeanyichukwu Ughamadu and a son-in- law to the deceased, Mr. Ejike Okoye, said Ogbueshi Nwashili was a mentor and advocate of peace.
The Managing Director and Chief Executive Officer of the Anambra Broadcasting Service, Chief Uche Nworah represented by the Director of News and Current Affairs Department, Mr. Gab Okpalaeze in company of the staff, commiserated with the family on the transition to glory of their father and prayed God to comfort them and as well, give them the fortitude to bear the irreparable loss.