The Governor of Anambra State, Chief Willie Obiano, has presented one hundred and forty-one point nine seven billion naira as the 2022 budget proposal before the State House Assembly.
Out of the draft estimate based on realistic projections on all sources of revenue, recurrent expenditure was pegged at sixty point nine billion naira, being forty-three percent of the budget proposal, while a Capital expenditure is at eighty-one billion naira, representing sixty-seven percent.
Road, works and infrastructure will gulp twenty-three billion naira, agriculture will take three billion naira, while three point two three billion naira is mapped for education.
Environment is expected to take three point four two billion naira, Youth Empowerment and Creative Economy two point zero eight-billion-naira Health, five point eight billion naira SMEA, one-billion-naira water resources and public utilities two point one billion naira.
Community social development program will get one point four billion naira to enable commencement of the third phase of community-choose-your-project initiative, as well as provisions for disability programs.
Governor Obiano said the estimate is geared towards sustaining his performance over the last seven years, with no plans to increase taxes and levies in the coming year.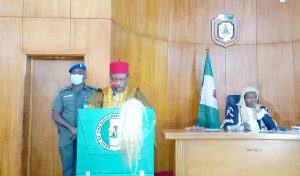 Giving a detailed account of his stewardship, Governor Obiano said his administration has remained committed to set vision and mission, despite daunting economic challenges, and thanked the lawmakers for working with him, just as he pleaded for expeditious passage of the budget, which he said is in tandem with the Anambra vision 2070.
While recalling his administration's efforts in tackling the COVID-19 pandemic, launching 2021 farming season launch and provision of seedlings, among others, the governor explained that despite the disruptions in economic activities occasioned by the sit-at-home campaign by non-state actors, he achieved a recurrent expenditure half year budget performance rate of approximately thirty five point four percent, while the capital expenditure half year budget performance stood at approximately fifty nine point six percent, explaining that it led to an aggregate half year budget performance of fifty point zero percent.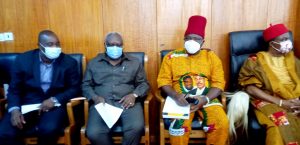 He however assured of a return to normalcy in the later periods of the current year, expressing optimism that the overall budget performance will improve to approximately seventy-five percent.
Speaker of the State House of Assembly, Right Honourable Uche Okafor, who presided over the proceeding, said during the presentation of 2021 budget, Governor Obiano made particular reference to the construction of the Anambra International Cargo and Passenger Airport, Umueri, which has been completed, in addition to other projects, including the International Convention Center and Awka Capital Stadium, Awka, which are nearing completion.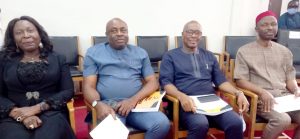 While assuring that the House will painstakingly look at the budget and come up with a legal framework that will satisfy the intent of the government and the development expectations of Ndi Anambra, the Speaker recalled that governor Obiano's administration has recorded tremendous achievements in human and infrastructural development  and made Anambra proud through his administration's empowerment of thousands of Ndi Anambra resulting in improved standard of living for the citizenry and development of the State.
He expressed readiness to continue partnering with the executive arm of government through the passage of people-oriented and development driven legislation, among other statutory duties.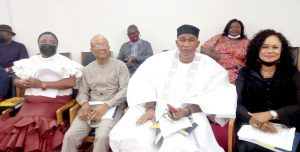 Secretary to the State Government, Professor Solo Chukwulobelu, Chief of Staff to the Governor, Mr. Primus Odili, Head of Service, Barrister Harry Uduh, Senator Victor Umeh, members of the State Executive Council, Traditional rulers, among others, attended the budget presentation.