Wife of the Governor of Anambra state, and founder of charity organization, Caring Family Enhancement Initiative (CAFÉ), Dr. Mrs. Ebelechukwu Obiano (Osodieme), received wife of the Inspector General of Nigerian Police Force, and National President of Police Officers Wives Association, Hajia, Hajara Usman Baba, Tuesday evening at the Governors' Lodge Amawbia.
Receiving wife of the IGP and her delegation occasion, Mrs. Obiano thanked them for choosing for their empowerment programme in Anambra State and pledged her support for revived Police Officers Wives Association (POWA).
Mrs. Obiano revealed that her friendship with Hajia Hajara predates the appointment of her husband as the IGP and thanked God that since the appointment, she came in as the National President of POWA and hit the ground running with good initiatives.
In her words: "I am very passionate about anything that concerns children and women and had made effort to engage with POWA and also touch the lives of Police women. I have also through my NGO, CAFE to intervened in areas I can support my husband's administration. We have built empowered almost 6000 women and youths, built 28 houses free for widows as well as 22 toilets in market places with water boreholes to ensure the maintenance of hygiene. It is also interesting that my husband the Governor Anambra State, is also touching lives of the wives of fallen Police Officers by supporting and honoring their late husbands. "She emphasized.
Wife of the IGP, Hajia Hajara Usman Baba, National President POWA, concurred, "I have known Her Excellency, Mrs. Obiano for a long time. When we came for Police Games, she made us feel at home.  I hope to continue the relationship beyond the office. There was virtually no POWA when we came on board but the passion the IGP has for women actually propelled me and my management team to build up POWA across states to encourage the widows of fallen officers, and the rest of the Police family.  My 3-Point Agenda for the association are in the area of welfare, education and health."
Welcoming the guests, Member Representing Onitsha South Constituency II, Hon Valery Nkemdiche Ikpeazu, said that she is currently only lady in the Anambra Legislature but that the state has many women in positions of authority in Anambra State. "I want to encourage all of us to stay strong and work together as women and make our strengths count in all our undertakings especially in the area of support and empowerment of others."
Earlier, Commissioner for Women and Children Affairs, Lady Ndidi Mezue, informed the guests that their mission of empowerment in Anambra is in tandem with the work of the wife of the Governor. She has through her CAFÉ programs created opportunities for many women, indigent widows and the less privileged.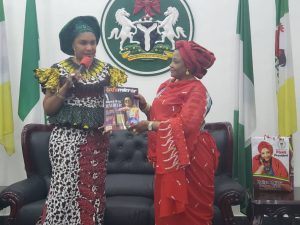 The National President of POWA and her delegation are in Anambra, on the first leg of their tour of states for the empowerment program in support of wives of fallen Police Officers.
Anambra State Commissioner of Police, CP Christopher Owolabi and wife were also in attendance during courtesy visit.