A  fulfilled life is made manifest in service to God and humanity.
This saying was evident in  the life of late Mrs Gloria Ukamaka Okafor who was buried at her country home Eziowelle in Idemili North  Local Government Area.
Late Mrs Gloria Okafor, aged fifty five, until her death was a Deputy Director in the Post Primary Schools Service Commission, PPSSC Awka.
Staff reporter Njideka Okoye covered the event and   reports that family members, relations, colleagues, friends and well wishers who came to pay their last respect to the deceased gathered at St Edward Catholic Church Eziowelle ,where a funeral mass was held in her honour.
Delivering a homily,a visiting priest, Reverend Father Professor Wenceslus  Ofojebe who said that the deceased was known for her work of  charity , commitment and service to God and humanity, noted that  unforgiveness is one of the factors that hinders prayers and one's blessings, urging the congregation to always forgive one another no matter the situation.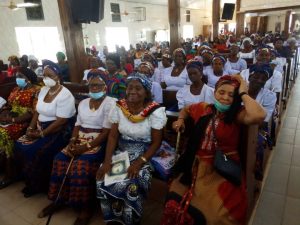 In his remarks, the husband of the deceased and the Parmernent Secretary Ministry of Public Utilities and Water Resources, Dr. Las Okafor ,thanked all who came to commiserate with them and those who were by their side during their moment of trials, describing his wife as a peace loving,a giver and good
woman
.
     Interment took
place
at her compound in Eziowelle before funeral activities at Eziowelle Town Hall field.
     Sons of the deceased, Dr. Nnaemeka , Mr. Favour and Master Uchechukwu Okafor said their mother was a peace maker, loving and generous woman who meant the best for her children and impacted many lives, promising to keep her legacies alive.
 For the Anambra State Head of Service, Barrister Hary Udu, the husband,Dr. Las Okafor is a committed Permanent Secretary in the state and a friend of many years, urging him to take heart.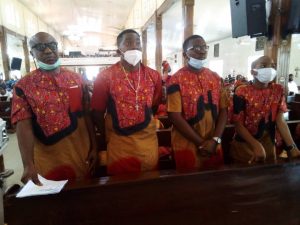 Various speakers  at Eziowelle Town Hall field, venue for the burial activities including, the Permanent Secretary ministry of Works, Barrister Emeka Ohuoha, Director and Fire Chief Anambra State Fire Service, Engineer  Martin Agbili and the Deputy Chairman Post Primary Schools Service Commission PPSSC,Awka Lady Pat Offia among others gave testimonies of virtues of the family and how Dr. Las struggled to save the life of his wife and encouraged him to look unto God .
Cultural dances and condolences by groups, relations, colleagues friends and well wishers formed the highlights of the burial ceremony.