The Anambra State Sector Commander of the Federal Road Safety Corps, FRSC, Mr. Adeoye Irelewuyi has blamed recurring road accidents involving heavy duty vehicles at the Agu-Awka intersection of new Enugu-Onitsha Expressway on poor vehicle maintenance culture.
Mr. Irelewuyi, who stated this in his office while interacting with journalists, said that most of the heavy-duty vehicles that had crashed at the intersection were neither service up-to-date nor road worthy.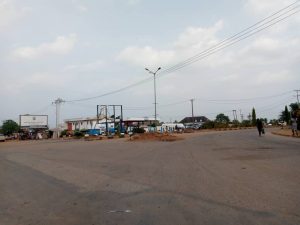 Correspondent Daniel Ezeigwe reports that the Agu-Awka intersection has been in the eye of the storm because of the repeated traffic accidents that have occurred there.
The road, which steeps  down from barely a half kilometer after the popular Aroma Junction, has been the torment of most drivers, who see the expressway's steeply end at Agu-Awka as a risky drive.
Not helped by the diversion at the left side of the expressway, which the driver must make on getting to the steeply terminal, because of the non-motorable nature of the rest of the road's right arm, heavy duty vehicles, especially trucks and tankers, have mostly at night, always found the road tortuous to navigate through.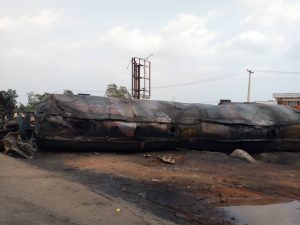 Assessing the situation, Mr. Irelewuyi said that verifiable evaluations showed that while some drivers of  the heavy-duty vehicles are not fit to drive, most of their vehicles fail the mandatory standard maintenance tests.
He regretted the situation, explaining that though the command has carried out series of advocacies and engaged drivers on road safety guidelines, the primary responsibility of any driver is to always ensure that their vehicles are in the right shape.
The Anambra FRSC boss also frowned at recent trend of some vehicles having just one number plate in the front, without having one affixed to the back, pointing out that apart from raising criminal suspicion, the act contravenes vehicular and road use statutes.
He said that any vehicle owner, who loses his number plate  must formally apply for a new one, or have legal authorizations for not having it, or be ready to face  the law.