The Federation of Aguata Students, FEDAS, Federal Polytechnic Oko Chapter, has celebrated its annual ovala festival and the 2021 cultural fiesta with pomp and pageantry.
The festival, which marked the twelfth edition, was held at the convocation arena of the institution and offered members the opportunity to unite as students of Aguata origin.
Correspondent Emmanuel Chigbata reports that spectators were held spell bound as the Igwe of the association, Igwe Damian Umeodulukwe accompanied by his Lolo, Adaobi Madukwe, cabinet chiefs and drummers were ushered into the arena.
Speaking, Igwe Umeodulukwe and his Lolo Madukwe thanked God for the opportunity to serve as the association's King and Queen, describing the festival as unique and worthwhile.
The chairman on the occasion, Mr. Christian Akunne, who was  the seventh Igwe of the association, described the festival as necessary to keep the Igbo culture alive and prevent it from going into extinction.
In his address, the President of the association, Mr. Kelechi Okpala, defined the event as a medium through which they celebrate the rich cultural heritage Ndi Aguata are known for and promised that the association will continue to preserve and promote their cultural heritage and identity.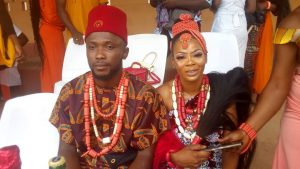 The Academic Adviser of the Association, Dr. Emmanuel Ezenwafor, in his remarks noted that the event is apt as it offered students the opportunity to leverage on their culture, even as he cautioned them against being carried away by campus life.
Launching of the association's banner climaxed the event.