It was a display of rich cultural heritage of Ndi Enugwu Aguleri, as their Traditional ruler, Eze Chukwuemeka Eri, performed the 2021 "Alo Nmuo" festival.
The event, which took place at Eze Eri palace, Obu Gad, Enugwu Aguleri, Anambra East Council Area, witnessed series of prayers to their ancestors, whom they are following their footsteps.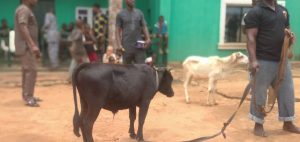 Alo Nmuo Ndi Enugwu Aguleri is a season in which they perform new yam festival to show that the crop they cultivated is due for harvest and consumption, and before that, they will celebrate yam as the king of all crops and pray God for another bumper harvest in coming year.
Eze Eri started this year's festival with breaking of Kola nut rituals, during which he prayed for safety, more blessings and protection of all Igbo sons and daughters.
He extolled Ndi Aguleri World Forum for sponsoring virtually all activities and developmental projects in the community, expressing hope that they will continue to bring Aguleri community to the limelight.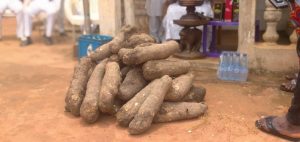 Speaking to newsmen shortly after Alo Nmuo ritual by Eze Eri, the President General of Enugwu Aguleri and Vice President of Aguleri World Forum, Chief Oba Chidozie, said after four days Eze Eri performs the ceremony, other Traditional rulers in the community can commence their's, and advised youths to emulate their forefathers who preserved their rich cultural heritage, even as he commended Aguleri World Forum led by Pastor Jossy Akwobi for uniting Ndi Aguleri.
On his part,  the Director of Culture, Iduu Eri Kingdom, Chief Anthony Obidigwe, who pointed out uniqueness of this year's Alo Nmuo, said celebrating yam as the king of all crops is not fetish, and urged Igbos of all extractions to come together and promote their identity.
While felicitating with his community, Chief Gilbert Obi said he identifies with Eze Eri because Obu Gab is the central home for all Igbos, calling on them to know their roots and celebrate their ancestors.
Ndi Ichie na Ojiana Aguleri, Igwe's cabinet, led by the Chairman, Chief Ossy Chinwuba, Anambra State Cordinator of Aguleri World Forum, Sir George Udedibie, were among the people that attended the Alo Nmuo, while killing of efi Igbo and other Alo Nmuo rituals added glamour to the ceremony.