Canoe Operators in Otuocha the headquarter of Anambra East Local Government Area, have appealed for Government and Private Sector supports to improve  water transportation in the area and  boost local economy .
Correspondent, Blessing Dennis reports that Canoe or "ụgbọ amala" in local parlance remains a major means of transportation for people living in riverine areas of Anambra State, especially, traders at the popular Otuocha market, Anambra East Local Government Area.
The market situated at the heart of Ọmambala River attracts huge traders from both the riverine communities and beyond.
Canoe popularly called "Ugbo amala" seems to be the first choice of transportation for people around the area.
Speaking to the ABS, a canoe operator, Master Izuchukwu Anthony, from Umuenwelum Anam, Anambra West Local Government Area, said people from far and near come to their community to trade on agricultural produce, and use canoe which is their only means of transportation to access the rural market.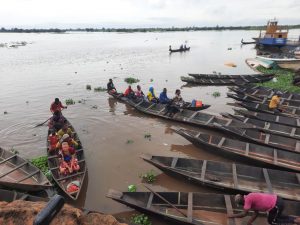 The fifteen year-old Izuchukwu said he has found satisfaction and earns a living by ferrying people across the river for them to continue their journey, especially traders.
Another Canoe operator, Master Linus Nzegwu from Umuoba Anam, Anambra East Local Government Area said that most of them depend on manual paddling of the canoe and can only carry five passengers at a time to ensure comfort and safety.
Mr Izuchukwu Okoye, from Oromaetiti Anam, noted that it is dangerous to ply the river with the wooden canoes and called on the State Government to intervene by providing people in the area with life jackets and modern boats to facilitate smooth traveling across the riverine communities.
An indigene of Nando, in Anambra East Local Government Area who resides in one of the communities in Anambra West that patronizes canoe operators, Mrs Ogoochukwu Onyekwelu made it clear that it is dangerous depending on canoes as a means of transportation in this modern time, especially during rainy season as they could capsize.