The member representing Ogbaru One Constituency in the Anambra State House of Assembly, Honourable Noble Igwe, has urged the State government to assist victims of Obodoukwu fire disaster with funds to cushion the effects of the incident on them.
Honourable Igwe made the appeal when he visited the traders at shoe site and Ogbaru markets along Obodoukwu road in Ogbaru Local Government Area affected by the fire outbreak that occurred in the markets last Friday.
House of Assembly Correspondent Chukwuemeka Modilim reports that after assessing the level of damage done by the inferno, the lawmaker told ABS that the incident was caused by a petrol tanker conveying fuel, which fell at a bad spot-on Onitsha-Owerri road and exploded.
He lamented that the inferno destroyed seven residential buildings, many shops and goods at the markets worth billions of naira.
The legislator called for immediate rehabilitation of the bad spot in the area as according to him the deplorable condition of the road causes accident, even as he commended Anambra and Delta States Fire Service for stopping the fire incident.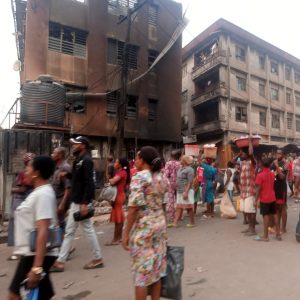 Lamenting the incident, one of the affected traders, Mr. Joseph Nwachukwu said his goods worth millions of naira were destroyed by the fire outbreak and urged the State government to assist him with funds to enable him rebuild his business.
On her part, another victim of the incident who deals on second hand wears, Miss Uchechukwu Obi also urged the State government to come to her aid.
In his remark, the President-General of Ogbaru Main Market, Mr. Ndubuisi Ochiogu commended Honourable Igwe for identifying with them, expressing optimism that his efforts will yield the desired result.