Following its commitment to ensuring adequate security life and property of Ndi Anambra, the government of Anambra State has received Ndi Anambra displaced in Jos, following the abrupt closure of the University by the authorities due to the uprising in communal crisis in Plateau State over the week.
They were received by a State government delegation led by the Commissioner for Information and Public Enlightenment Mr. C-Don Adinuba at the GUO Park in Awka.
Receiving the students on behalf of the State government, the Commissioner for Information and Public Enlightenment Mr. C-Don Adinuba revealed that the contingent is the third set of evacuees from Jos, but the first set from GUO, stressing that Governor Willie Obiano decided that every Anambra indigene whose life is  being threatened is free to come home, assuring that the State government is prepared to pay their transport fare.
The President of Anambra State Association of Town Unions, Chief Titus Akpudo who noted that the reception was on the directive of the Governor, appreciated God that they arrived safely and stressed that more vehicles have been sent to bring back Ndi Anambra who are willing to come home.
While thanking Anambra State government for its effort, the President of Anmabra State Welfare Association in Jos Mr Obikwelu Nnawetanwa said that they could not come out for over two weeks which has brought untold hardship to them, stressing that he joined the movement to ensure their safe arrival.
A staff of the University of Jos, Mrs Lilian Aniegbunam who hails from Awkuzu recalled the harsh violent experiences she witnessed having escaped death on two occasions, expressing joy that she eventually learnt about the government plan on social media and quickly applied.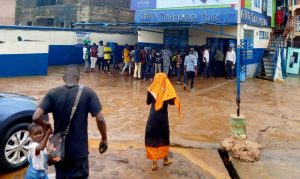 While stating that she has been a staff of University of Jos for the past fifteen years, Mrs Aniegbunam expressed optimism that people who are stranded in Jos will be evacuated in a record time, pointing out that she has no plans of going back.