The All Progressives Grand Alliance, APGA, has initiated it's campaign process ahead of the November Six governorship election in Anambra State.
APGA National Leader, Board of Trustees Chairman and Governor of Anambra State, Chief Willie Obiano performed the inauguration ceremony of National, State Local Government campaign Council  of the Party at Dr. Alex Ekwueme Square, Awka.
Government House Correspondent, Ejike Abana reports that the APGA State Campaign Council has Professor Solo Chukwulobelu as the Director General, former Deputy Governor, Emeka Sibudu as Deputy Director General, Chief Chinedu Obidigwe as Deputy Director General, Operations, Strategy and Security, Chief Ifeanyichukwu Ibezi as the Deputy Director General and Mobilization, as well as Mr. Primus Odili as the Campaign Secretary, Finance and Administration, among others.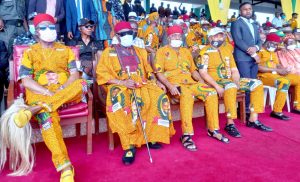 At the National Campaign Council, while Chief Willie Obiano is the Chairman, Chief Victor Oye is the Deputy Chairman and others are members.
Performing the function, Governor Obiano, who assured of maximum support, tasked the Committee members to ensure they deliver the Party at the polls, noting that with the successful inauguration, APGA is now ready to embark on campaign for victory that will bring about smooth transition to the next dispensation.
Speaking on behalf of the Campaign Council, the member representing Anambra East and West Federal Constituency, Chief Obidigwe, who described the Committees as robust, thanked Governor Obiano and the National Chairman of the Party for standing firm for the truth to come to light and expressed optimism that APGA will win again.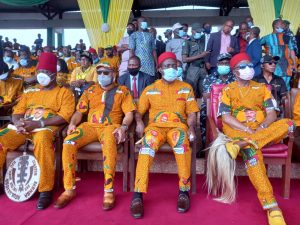 He emphasized that Anambra is not a place where election can be rigged, and called on INEC to discharge it's duties creditably to enable Ndi Anambra elect their candidate, Professor Soludo.
Chairman of APGA Peace and Reconciliation Committee, Chief Victor Umeh said that the publication of the name of Professor Soludo as the Party's candidate is worthy of celebration because the right thing has been done.
While expressing optimism that Professor Soludo will win with APGA Party, Chief Umeh emphasized that Ndi-Anambra can decide who they want, and should not allow outsiders to destabilise the State.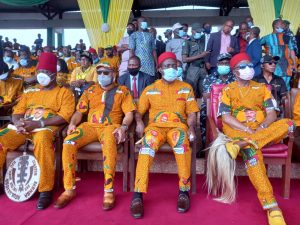 He stressed that Governor Obiano's scorecard is impressive and Ndi-Anambra want the person's that will sustain his legacies, calling on everyone, including those who are in various courts to come together for a common purpose.
Also speaking, the standard bearer of APGA, Professor Soludo said the Party represents Ndi-Anambra, noting that the poverty level of the state in 2018 was fifty-three percent, but now fourteen point eight percent, and cautioned against orchestrated campaigns against APGA, saying that there are no factions in the Party.
While thanking the Court of Appeal and hoping that the Supreme Court will uphold his victory and that of his Deputy Governorship candidate, Dr. Onyeka Ibezim, the National Chairman of APGA, Chief Oye said that God brought Professor Soludo to replace Obiano, having devoted his life to the service of Ndi-Anambra, just as Professor Solo Chukwulobelu assured that APGA campaign will be on the solid foundation laid by Governor Obiano