Airpeace Airlines, one of the frontline carriers in Nigeria, owned and operated by Anambra-born Chief Allen Onyema has landed Embraer 195, E2 aircraft from Lagos at Anambra International Cargo and Passenger Airport, Umueri.
This followed the approval by the Nigerian Civil Aviation Authority (NCAA) for the airport to operate Boeing 737-700 aircraft or its equivalent.
Government House Correspondent, Ejike Abana  reports that Anambra State Governor, Chief Willie Obiano was at the airport  to witness the flight debut accompanied by members of the state executive council and others.
The plane landed at exactly thirteen minutes past one in the afternoon with one hundred and ninety-five passengers from Lagos.
The Governor who expressed satisfaction that the airport is gradually being upgraded to its class, called on people to patronise the facility which he said is first class.
The pilot of the aircraft, Captain Isimhenmhen Eghonghon commended the Governor for the magnitude of the project, pointing out that the runway is smooth as well as other facilities which he tested.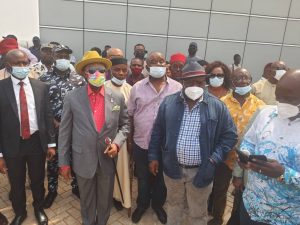 The traditional ruler of Umueri, Igwe Ben Emeka applauded the present administration for the airport which he noted was achieved in a record time.
Another Embraer 195 E2 aircraft from Abuja also landed at the airport.